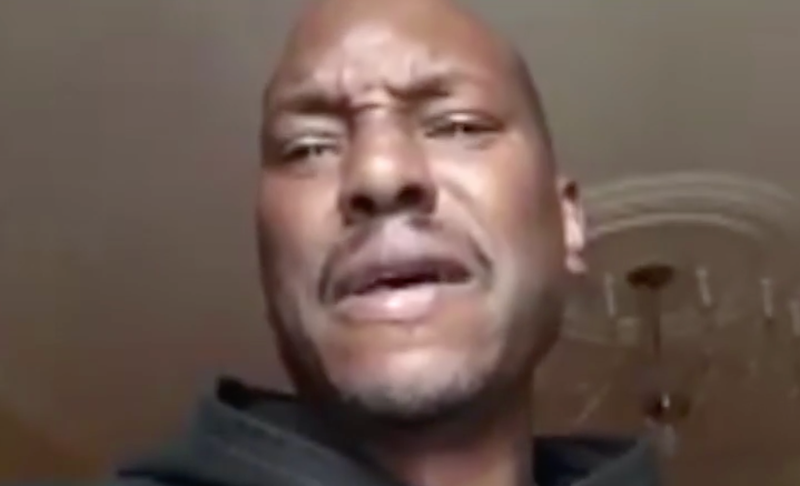 The last 24 hours of social media have seen a lot of singer and actor Tyrese Gibson—and it ain't pretty.
The obviously distraught entertainer started the day by posting an emotional breakdown of sorts about the legal battle over his daughter, then put up two more rambling posts addressing Dwayne "the Rock" Johnson.
This morning, Tyrese posted a three-plus-minute video hours before a court hearing over the custody of his 10-year-old daughter, Shayla, whom the 38-year-old said he hasn't seen in at least two months since his ex-wife, Norma Gibson, accused him of physically abusing the little girl and got a restraining order against him.
Tyrese, who says that he's been hospitalized for anxiety, was visibly upset, crying at times and wearing a sweatshirt saying, "Shayla Rocks." Tyrese says in the video that his daughter is "all I got" and pleads, "Don't take my baby." Talking directly to his ex, he also says, "I'm not doing anything illegal" and "I'm at $13,000 a month. What more do you want from me?" And on. And on.
Later that day, your boy put up an incoherent Instagram post talking about Martin Luther King Jr. and how he once walked the streets of Watts, complete with a photo with Lee Daniels, telling him, "ps Lee Daniels dude you're a fellow Capricorn please listen to me don't you EVER wear your facial hairs like that ever again Ok?"
He then addressed the long-standing beef with Johnson, saying that he was never mad at the Rock but was upset that he took a role that would affect the Fast and the Furious franchise. Part of the new post reads:
And FYI I was never mad at The Rock – I was just mad that he was "pitched" an idea privately and said yes to it without thinking of what I'm dealing with personally I'm almost broke paying legal fees and is doing what we committed to doing for the #FastFans and #FastFamily cause the fast is tradition it's not just another Movie Fast was created to COUNTER images of racism to counter that WE ARE NOT ONE RACE…… So the rock how does it feel bro?…. going home to your daughter every night…. it's was 60 days before I seen my baby….. and all I asked you to do "privately" was NOT accept a role that would deeply effect us all……. You are simply NOT the people's champ….. you are a selfish champ….. I'm almost broke swimming in legal fees CAA tried but couldn't book me anything cause my ex wife killed my reputation so no one wants to hire me.. It's not about I know I know I know right?? Says the man on the Forbes list.. Make sure you kiss your 2 daughters when you get home I wish I could but I can't afford to fight for my baby anymore so they're likely going to take her away……. Thanks Dewayne see you guys in 2020 and I will not delete this post cause the TRUTH of selfish people in Hollywood needs to be mentioned……………… to this day Dewayne has NOT called me back as u see me crying every 3 hours over my baby know #ShaylaRocks
Before that, Tyrese said he would quit the Fast and the Furious franchise (this would be the ninth one) if the Rock appeared in it. More rambling:
Hello world………. hello loyal fans and loved ones from OUR fast universe…….. I'm sorry to announce that if Dewayne is in Fast9 there will no more Roman Peirce – You mess with family and my daughters survival I mess with yours……… close your eyes dude you're a "Clown"…… #CandyAssBitchMade All my real one…. Men on integrity… my real ones out here stand UP…… folks that GP to the gym and get big naturally #NoJuice#NoOJ spin off huh? Spin off these nuts selfish champ…… pause notice who's got his arms around my shoulder and who's standing alone – #OurChildrenMatter

Source: thegrapevine.theroot.com